Their smile tells you – I feel great!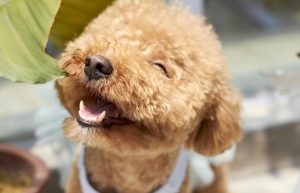 You've made the conscious move to change the way your dog eats. Excellent decision! We know you'll be happy that you did so. If you're starting your journey with Brown's Best Raw Dog Food, we're thrilled that you've chosen to give your very important family member Premium Life Food For Dogs™.
The process of transitioning your pup to a raw diet is one that comes with a lot of questions, and a lot of balancing that takes place to make the diet it's most beneficial. While everything we do at Brown's Best Raw Dog Food is designed for maximum benefit, we also know that sometimes supplements – just like in humans – can help make the outcome even better. You're probably reading a lot about ground beef bone, bone power, bone chips, and the pro's / con's that come with feeding these to your dog. Ground beef bone can be an incredible supplement for your dog's diet. We want you to have as much information as possible, so here's some food for thought (yes, pun intended).
Ground Beef Bone… what is it and what can it help with?
Ground beef bone is simply bones, usually from a cow, which are ground down to create everything from dog food toppers to garden supplements. While they come from the same sources, they are used very differently. First and foremost, NEVER use ground beef bone that you find at the garden center for your dog. As much as it may seem the same, it's not and often-times gardening supplements contain other additives designed to help plants grow (sometimes we worry that this is why ground beef bone is sometimes discussed negatively). Please, heed the "toxic" warning labels in that case because we know that used in the form it is intended for dogs is beneficial.
Great news, ground beef bone for dogs is something you can easily find these days. In fact, if you click right here (Brown's Best Raw Dog Food Shop), we offer it for shoppers seeking an excellent supplement to their raw diet plans. Ground beef bone is a source of calcium and phosphorous. Adding it to your dog's meal can help:
Strengthen teeth and bones
Relieve stomach ailments, nausea, or other reasons your dog gets an upset stomach
Improve cardiovascular health
Fight the onset of arthritis
As great as the benefits are, it's also important to watch out for some side-effects, which usually come with too much over-use of ground beef bone – let's face it, too much of a good anything isn't good at any time. So:
Moderation is key. Over-use of ground beef bone can cause constipation
Avoid risks of bacterial contamination to your pup… and potentially to you with homemade variants or improperly produced product
Watch out for ground bone that is not in powder or granulated form, there can be shards that can damage your dog's mouth, throat, and intestines
So, how much of this good thing is the right amount to give?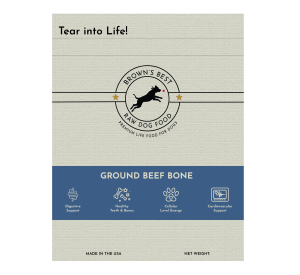 We don't want to brag, but we will, a little bit. Brown's Best Raw Dog Food's Ground Beef Bone is ideal for your dog's meal supplement. It comes packed with nutrients, safely and properly manufactured, that your pup needs to get all the benefit. But use it based upon the size of your dog – because a tablespoon is probably too much for a Chihuahua but not enough for a Bloodhound:
Up to 30 lbs.:    1 – 2 tsp
50 – 60 lbs.:    2 – 3 tsp
60 lbs. and over:    3 – 4 tsp
Don't be afraid to give ground beef bone a try. There's a lot to read out there but we believe that used properly, in moderation, and from a source like Brown's Best Raw Dog Food, you pup will be on his / her way to feeling happier.
We Paws-itively want to stay in touch!
Fill out the form below and subscribe to our newsletter for the latest updates, inspiration, and products to keep your dog happy and thriving.